Sat Dec 14th 7.00pm
Santa's Grotto
This is the night of our Christmas Social.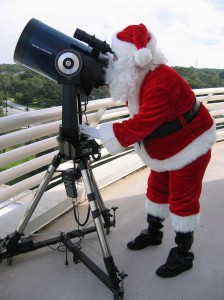 Bring your treasured possessions to meet the other members and talk about telescopes, books, software and get ideas for Christmas Presents or just wonder how much Alun really spends on astronomy! All welcome, with contributions to the buffet welcome but not essential.
Quiz:
Raffle prizes, pin the tail on the Great Bear.
Including sandwich and cakes, our wonderful coffee or a 'plastique' of Asda wine!